SubPlayer for Windows 10
SubPlayer is one of the most app you should have. SubPlayer is more than a simple Music Player, you can create subtitles for songs or videos incluiding movies, while SubPlayer creates a very own subtitle file and it is the file SubPlayer reads to show subtitles you may to want to use this file in a YouTube or Facebook video to display the subtitles you have created, If you want to do it you can save the subtitle file as SubRip(.srt) or as Lyrics (.lrc) format, SubPlayer will output the content for you. You can listen internet radio stations, you only need to know the URL or IP address from the broadcaster media it includes audio or video streams, If you are a broadcaster and you want your listeners use SubPlayer App and listen your radio station or shows you broadcast online you can create a Media Stream File, fill all information needed and then save it, after you have created this file you can upload it to your website or share it with your friends, All Media Streams you create are saved in Music Library a folder named SubPlayer is created by SubPlayer App, look into this folder and you will see a folder Named Streams, open it and you will see all Media Streams you have created. Because this file format is registered on your divice if you double click it, it will be open with SubPlayer. by default.
From the version 1.0 to version 3.1 the app has been redesigned, we have also added more features, in the version 2.0 you can create Playlist, this allows you to load your favorite music on a single file, you can set up a playlist you want to start playing when SubPlayer starts, also we have added a color styles to the player while playing music.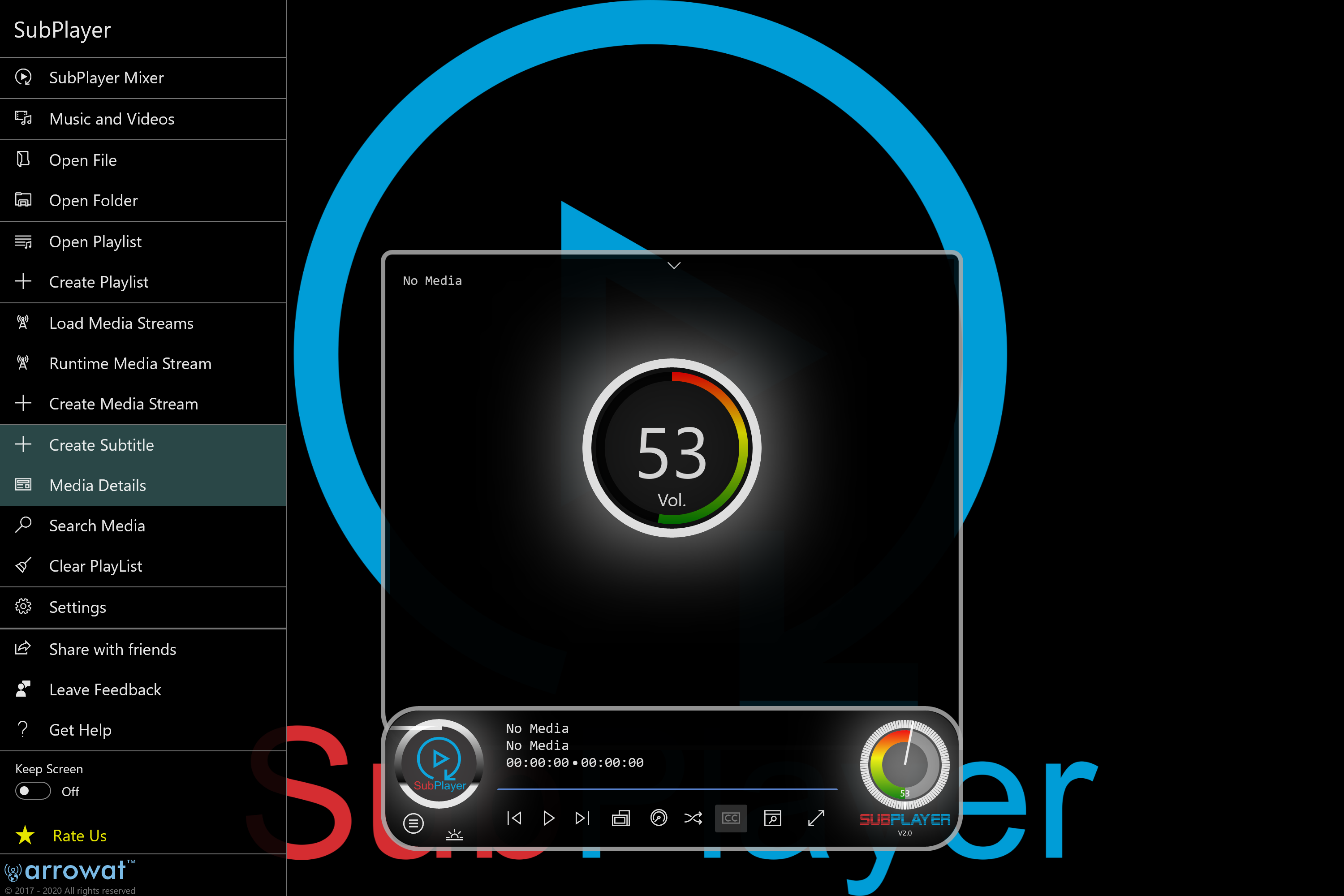 SubPlayer button controls can be controlled with the keyboard, the following image explains the button controls and their access key
F1 Key shows or hides the music list
F2 Key activates the Shuffle play
F3 Key or click out of the player hides or shows the player
F11 makes the app enter to Full Screen
ESC Key makes the app out of Full Screen
CTRL + R activates the repeat current media
CTRL + F shows the search media
Left Arrow and Up Arrow Keys play the previous media
Right Arrow and Down Arrow Keys Play the next media Note:If the Shuffle Play is activated the Right Arrow key will Play the Shuffle Media while the Down Arrow Key will play the next media as normal.
CTRL + Up Arrow Keys change the volume up
CTRL + Down Arrow Keys change the volume down
Mousewheel change the volume up or down
When SubPlayer starts, it does not load music files by itself, you can create a start up playlist and set it up from app settings, or load you music from menu options.
Media From Removable device
You can load media files from storage cards, External hard drive or usb device
Music Library
This option loads all media files stored in Music Library
Video Library
This Option loads all media files stored in Video library, Videos should be stored here
Media Streams
This option will load all Media Stream Stored in Music Library, SubPlayer will load the only Media Stream accepted, the only files SubPlayer loads are files with extension ".subps"
SubPlayer Features
The following features are supported on SubPlayer at this time.
Play Music
Play Videos
AutoMix
Load Music From SD Card Storage and others computer locations
Search Music Library
Create Music SubTitles
Create Playlist
Setup a default Playlist to be played when SubPlayer start.
Control Player with keyboad
Picture in Picture
Player color styles when playing media
Folder Access Settings
Export Subtitles on SubPlayer format, SubRip format, Lirycs format.
Listen Internet Radio Stations
Create Media Stream Playlist
Play Media Stream
Share Media Stream
SubPlayer Mixer Dj
Unlimited SubPlayer Mixer Dj Desks

Be sure you have updated your windows10 device, this app works on the most recent Windows 10 update. SubPlayer app is being updated. Make sure you have installed the most recent version of SubPlayer 3.1